2020.09.21
 | 
views: 2110
SEUM Ranked on Par with Top Law Firms in Technology Sector of Asialaw Profiles 2021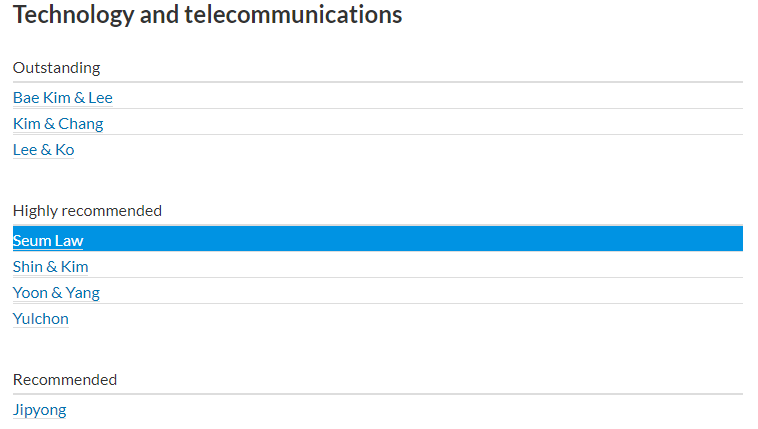 SEUM has been recognized as a "Highly Recommended Firm" in Korea in the Technology and Telecommunications sector for the 2021 edition of Asialaw Profiles: The Guide to Asia-Pacific's Leading Domestic and Regional Law Firms and now ranks on par with Korea's top law firms, including Shin & Kim, Yoon & Yang, and Yulchon (see relevant article here). As the only boutique law firm to achieve this ranking, this recognition serves as a testament to SEUM's track record of providing high-quality legal services that are comparable in quality with those of Korea's top firms in the technology sector.
Asialaw produces comprehensive news, information and rankings analysis of the leading regional and domestic law firms in the Asia-Pacific region. The Asialaw Profiles rankings not only considers the amount of cases handled by a law firm, but also reflects Asialaw's interview results with lawyers and clients who actually experienced the work. For a boutique firm such as SEUM to be ranked as a Highly Recommended Firm in the Asialaw Profiles is a remarkable achievement.
SEUM extends its appreciation to its clients who made it possible for SEUM to achieve this Highly Recommended Firm ranking. SEUM will continue to strive to provide clients with not only useful legal advice but also practical solutions to resolve their legal issues.
In addition, SEUM expanded its recognition in other practice areas and was newly recognized as a "Notable Firm" in the Corporate and M&A sector and the Consumer Goods and Services sector, which is a testament to our commitment to provide excellent services in an expanded variety of sectors.